DJI Ronin RS3 Pro Gimbal Kit
Qty: 1
Lightweight Design with 10 lb Payload
Combo Includes Phone Holder, Focus Motor
Multiple Camera Control Cables
Advanced 1.8" OLED Touchscreen
Instant Mode Switching, Auto-Lock Axes
Includes Wireless Transmitter
Wireless Shutter Control, SuperSmooth
Fine-Tuning Knob on Tilt Axis
ActiveTrack Pro, DJI SDK Support
Carbon Fiber Body Weighs Only 3.3 lb
More Power, Smaller Gimbal
The
DJI RS3 Pro Gimbal Stabilizer Combo
has been redesigned to be sleeker and more powerful than the Ronin RS 2 gimbal, with its carbon fiber body weighing only 3.3 lb and a payload of up to 10 lb. This compact gimbal is tough enough to support and stabilize midsize cameras such as the Sony FX6 or Canon C70 with a 24-70mm zoom lens attached. With a larger full-color OLED display, a new fine-tuning knob, and greater stability, the RS 3 Pro can become an essential part of your professional camera kit. The Combo kit includes additional essentials such as an updated focus motor, a motor rod mount kit with gear strip, a briefcase handle, a BG30 grip, a lower extended quick release plate, a wireless Ronin Image Transmitter, a phone holder, USB multicamera control cables, multiple HDMI cables, power cables, and a lens-fastening strap.
Quick Release Plates
The new Extended Lower Quick Release Plate ensures more stable camera mounting and is convenient for installing lens support for secure settings.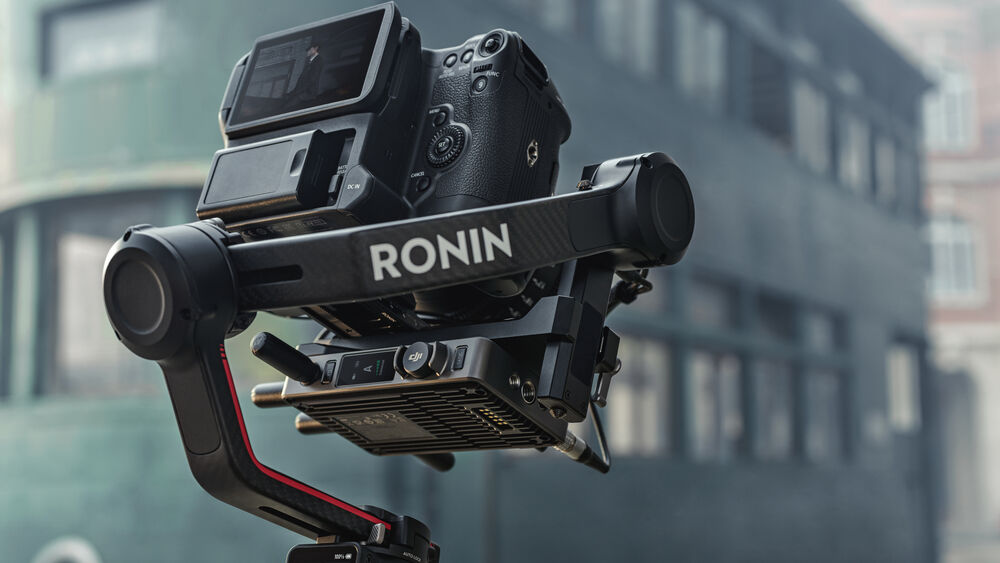 Automated Axis Locks
When the gimbal is powered off, you can press and hold the power button, and the three axes unlock while the gimbal expands automatically, allowing you to start working in just two seconds. Press the power button once, and the axes automatically lock and enter sleep mode, making a move or storage significantly more efficient.
Wireless Shutter Control
Equipped with Dual-Mode Bluetooth technology, the RS 3 Pro is able to achieve efficient and reliable wireless shutter control. Previously paired cameras can be automatically reconnected, saving you a ton of time with every use.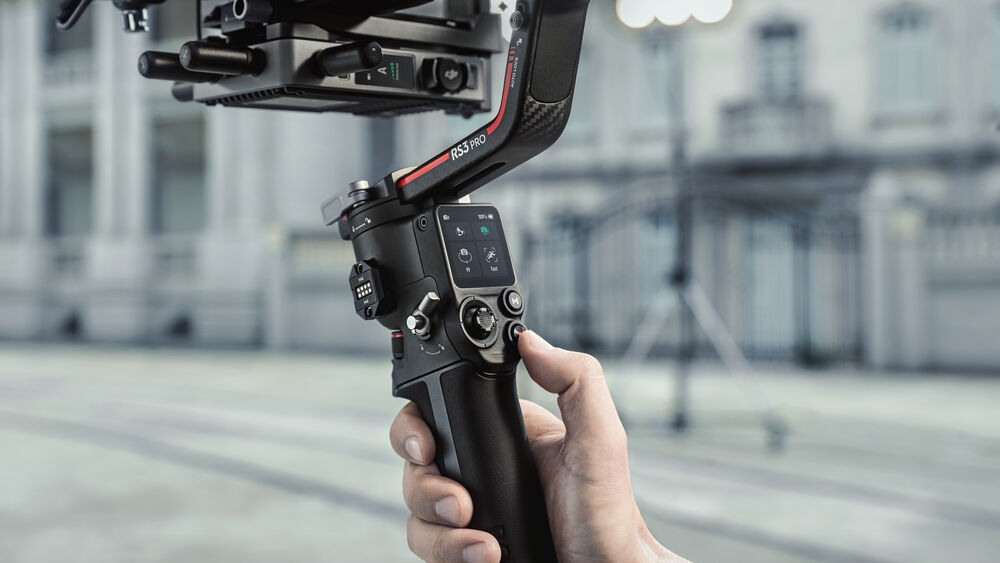 Integrated Controls
With a newly added fine-tuning knob on the tilt axis, the camera can slide forward or backward with millimeter-grade precision adjustments to achieve accurate balancing more easily when changing the lens.
With Teflon-coated components for lower friction resistance, RS 3 Pro can be balanced more smoothly, even when mounting heavy cameras.
By simply sliding the new gimbal mode switch, you can alternate between Pan follow, Pan and Tilt follow, and FPV modes. The FPV mode selection is also customizable to 3D Roll 360, Portrait, or Custom, allowing you to adjust your equipment and get started as fast as possible.
Rotating the front dial allows you to control zoom or focus. It can also be customized to control the camera's shutter, aperture, ISO, or gimbal movements, making it exceptionally convenient for single-handed operation.
Third-Gen RS Stabilization Algorithm
Empowered by a next-generation stabilization algorithm, the RS 3 Pro provides 20% enhanced stability over the RS 2, effortlessly managing low-angle shots, running scenarios, or switching between high and low positions.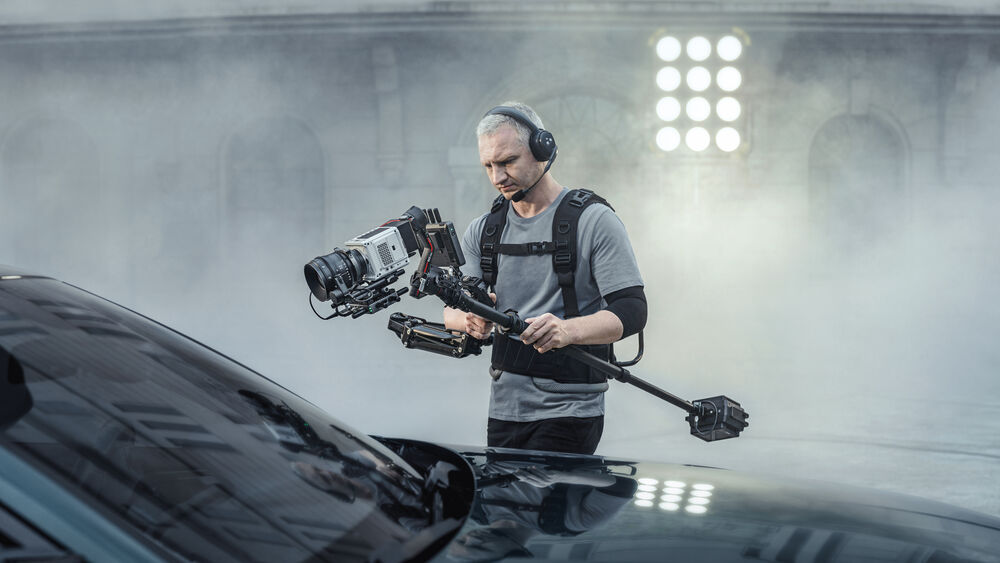 Get SuperSmooth Results
When SuperSmooth mode is enabled, the RS 3 Pro increases motor torque to further enhance stabilization, delivering stable footage even in fast-moving scenarios or with 100mm-equivalent focal lenses.
ActiveTrack Pro
Tracking on the Ronin series has never been more accurate or responsive. The next-generation ActiveTrack Pro can directly read images from the camera built into the optional LiDAR Range Finder, with no need for the Ronin Image Transmitter. When using ActiveTrack Pro, you can directly monitor or frame the subject on the RS 3 Pro's OLED touchscreen.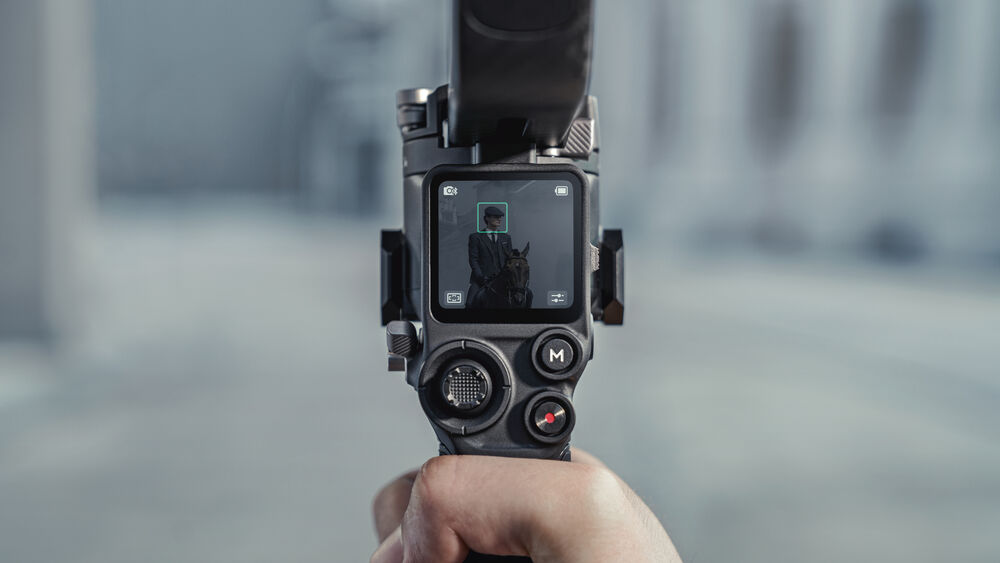 Large 1.8" OLED Touchscreen
The built-in 1.8" OLED full-color touchscreen provides a 28% larger display when compared to RS 2, making it incredibly convenient for setting parameters, checking shooting status, and framing your tracked subjects. With the redesigned user interface, every setting is more intuitive and precise. The OLED screen also offers higher brightness than the LCD screen of RS 2 for better outdoor viewing with lower power consumption.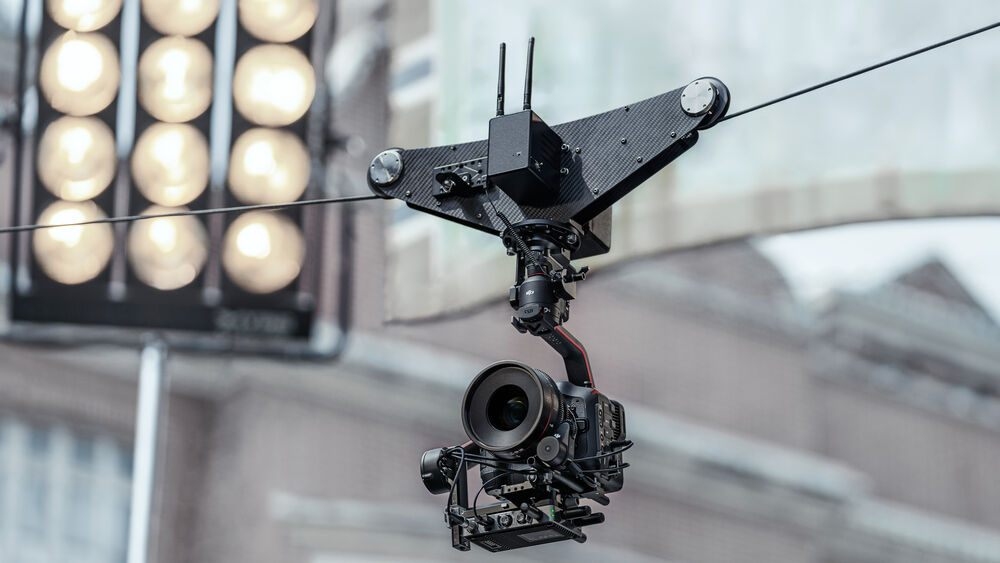 Carbon Fiber Construction
The RS 3 Pro arms are constructed from layered sheets of uncut carbon fiber, just like the Ronin 2. This makes it lighter and stronger than the jointed carbon fiber material used on RS 2, increasing stiffness and a lower weight to cope with even more demanding shooting environments.
LiDAR Compatibility
To make focusing easier for handheld shooting, Ronin 4D's LiDAR focusing technology is applied to RS 3 Pro. The new optional LiDAR Range Finder (RS) can project 43,200 ranging points within a 14-meter area.
Remote Control
The High-Bright Remote Monitor can be used with Ronin 4D Hand Grips, DJI Master Wheels, or DJI Force Pro to control the gimbal and focus precisely. It is also equipped with a built-in gyroscopic sensor that can turn the remote monitor into a standalone motion controller for RS 3 Pro without additional accessories to achieve more complex camera movements from a moving vehicle or with a jib.
Wireless Camera Control
When RS 3 Pro is mounted on carriers like a jib, cable cam, or vehicle suction cup, Mirror Control mode unlocks seamless wireless control from anywhere on set. This mode allows direct control of the core menu operations for Sony mirrorless cameras via the remote monitor, all without having to detach your camera.
Enhanced Battery and Fast Charging
The new RS 3 Pro battery grip features a cartridge design, making it easier to swap batteries and smaller for storage compared with RSC 2. It can even be charged separately from the gimbal. The new battery grip provides an extended runtime of up to 12 hours, enough for continuous shooting all day. It supports 18W PD fast charging with a charge time of just 2.5 hours. It can even be used while charging to keep RS 3 powered almost indefinitely.
Extensive Ports and Accessories
With dual RSA/NATO ports and a battery port, RS 3 Pro can be connected to various accessories such as the Twist Grip Dual Handle, Tethered Control Handle, and the new DJI Briefcase Handle to flexibly meet a variety of shooting requirements.
DJI RS SDK
DJI RS SDK is a developer protocol provided by DJI for developers and third-party hardware manufacturers to equip DJI RS 3 Pro with more features for extensive scenarios.
Rental Policy
Weekend Rentals
Saturday/Sunday are only not paid rental days if you wish to return Saturday/Sunday and cannot (because we are closed). In that case, you will return first thing Monday morning.
To schedule to return Monday morning without getting charged for Saturday/Sunday: Set the return for Friday at 5:30pm. (If you are unable to select a return time of 5:30pm, the equipment is unavailable for weekend rental). During checkout, write in the notes that you will be returning Monday morning. Please be sure to return Monday at 8am.
Rental Period
Equipment can be picked up between 4:30pm and 6pm the day before the rental period if the item(s) are available.  Please write in the notes during checkout that you would like early pickup.
Returns can happen between 8-10am the day following the rental period (Except Mondays. Reference Weekend Rentals above). Renters will be given a minimum of a $10 late fee or 20% of the day rate charged. Whichever is greater.
Pick-Up Discrepancies

Orders made during our closed hours will not be processed until the next morning that we are open and therefore will allow for some discrepancies.
We share our inventory between our Orem and Salt Lake City store and do our best to have equipment in the location that you wish to pick up. Consequently, last minute orders cannot be guaranteed to be all in one location as we are not given time to prep.
Credit Card on File in Case of Damage
A Visa, MasterCard, American Express, or Discover Card may be kept on file. This agreement authorizes Red Finch Rental to use the card on file for any loss or damage to the equipment rented. A valid state issued ID is required.
Insurance is Not Provided
The renter of equipment accepts full liability for any loss or cost of repair. Renters are required to provide proof of insurance naming Red Finch Rental as addition insured and loss payee. To purchase insurance, contact a provider like athosinsurance.com.
Renter's Responsibilities
All rental equipment is checked by our staff to ensure proper working conditions prior to leaving the premises. Red Finch Rental must be notified immediately in the case of equipment difficulties at 801-360-3855. Failure to do so may result in full rental charge.  Red Finch Rental assumes no liability for equipment failure and/or availability. The renter is responsible for the proper care and operation of the equipment as well as the return of all included accessories. 
A $50 cleaning fee will be charged for equipment that is returned dirty.
If excessive cleaning is required, additional fees may be assessed to the discretion of Red Finch Rental Employees. Please do not remove filters from lenses. They are there for your protection.
Cancellations
If a rental is under $100 and is cancelled up to a week before the pick-up date is scheduled there will be no penalty and a full refund if necessary. However, if the rental is over $100 and cancelled up to a week before the pick-up, the renter will be required to pay 10% of the original payment. 
Any rentals cancelled within the week before pick-up will be required to pay 20% of the original payment or receive store credit in place of a refund.
Cancellation of any multi-week rentals within the week before pick-up will either be charged 20% of the original payment or can have Red Finch Rental keep their full payment as in-store credit to be used at a later date.
If the rental equipment has been picked up, cancellations or early returns will not result in a refund of money or any discounts.